The Latvian Alpaca Adventure 2017 - It was a very interesting week and one of the highlights was visiting Ieva Prane in her studio. And now I can't wait to get back into mine and start working on some felt projects!
Ieva was very professional and inspiring as an instructor and her studio was very nice to work in. It was inspiring to be surrounded by Ieva's artworks, garments, etc. 
I can definitely see myself taking another class with Ieva exploring the endless possibilities of her "zig-zag lace" technique. 
Ieva Prane - You're a very talented artist!
Maria Wiklund (2017, New York State)


But Ieva, you already are noticed by a lot of people! I am sure of it! And I know also that when I go to exhibitions I have no shame to say that this artwork is created by my friend. You see, if the artwork is acknowledgeable then from "artist Ieva Prane" she becomes "private property" - MY friend. :) I remember how I was proud that I know this textile artist when I went to exhibitions.
The scientist of arts -
Zanda Jankovska (2016, Videbaek, Denmark)



Ieva Prane is one of the brightest followers of Rudolf Heimrat legacy from the whole field of textile art in Latvia with creative potential.
Textile artist,
the head of the textile art sub-sector of the LMA visual arts department in Latgale
Gundega Strautmane (2016, Rezekne, Latvia)




We received Ievas Prānes tapestryas a gift. It is a beautiful representation of a photograph of my partner and I on a beach in Ecuador. The artwork is not only an incredible likeness to the picture of the two of us; it also captures the 'feel' of the place and brings back lovely memories. It has a stunning overall effect, however I am taken aback by new details every time I lookat it. This work is fascinating, beautiful and captivating. We have put it upon a wall in our living room and now I could not imagine the space without it. Thank you for this beautiful gift!
Alise Piebalga (2015, London)




Ieva!
Line, colour, good composition.
All that unified in textile.
Sincerely.
Painter, Rector of Latvian Art academy
Prof. Aleksejs Naumovs (2015)




Thoughtful design.

Designer, owner of the salon "Linulāde"
Evita Smanuhina (2015)



Ieva took part in our business planning seminar, where she led a creative workshop. In this activity we enjoyed the magic of brush and color. A lot of us hadn't done it since school time. Ieva led this activity in a simple and understandable way, but in the same time she also spoke about various historical facts, which were very interesting to us. Ieva could awake interest even among most sceptical tempered group members who didn't want to stop doing this activity. This was a fascinating way to unit our team before serious seminar. Ieva gave a good impulse to our further work.

SEB leasing the head of Selling department,
Inga Auzina (2013)

I want

I want  to keep my skin thin
To feel a child's downy cheek
And the roughness of a hard-working hand.
I want to keep my senses open,
To smell the autumn sharpness
And the musty earth revealed by melting snow.
I refuse to hide my face behind a mask
Even if everyone can see trough me.
I will grow neither bark
Nor shell
Nor armour
That grows thicker every year.
I want to preserve hope
My childish dream
Of a human being,
Of a look and touch
And unspoken words.
I refuse to follow
The signposted path.
I want to fly to the top
Sink to the depths
To lose my way and to find.
I want to see the dazzling light
And impenetrable darkness.
I want to remain vulnerable.
Member of European Parlament
Satu Hassi (2011, Finland)


Textile art is colors, rhythm of lines, creative moods and the expression of the image of art in the operation of the capaciousness of time in many various materials – both traditional and contemporary. Ieva Prane walks along this sharp edge in a convincing, individual, full step – she has the strength to be a textile artist!
Painter, Latviam Academy of Art, Vice-chancellor, professor
Kristaps Zarins (2010)


Ieva Prane has only recently graduated from the Latvian Academy of Art master's program with an outstanding diploma work, demonstrating not only high artistic value, but also originality in the technical execution of a tapestry. Amazingly clever is her interpretation of the theme "Mr. Simpleton." Not difficult in terms of skill, but sensitively gripping and revealing herself to others; the actual themes are a witness to the mission of the artist.
Textile artist, Latvian Textile Association president, Latvian Academy of Art professor
Aija Baumane (2010)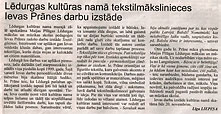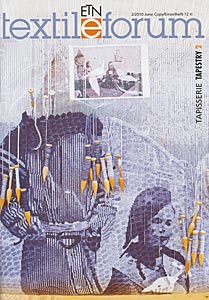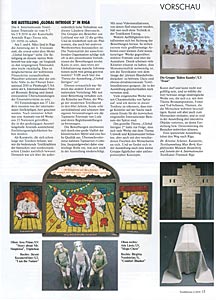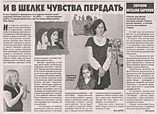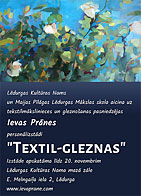 Solo Solo exhibition
"Textil-gleznas"
(Textile-paintings),
Lēdurga
(Latvia), Lēdurga's House of Culture,
20. October - 20. November, 2016.

Solo exhibition in
Sedico
(Italy), June 4 - July 27 2016,
which will take place within a International Culture festival "Alle 5 della sera"
Organized by IMAP CASA arts management.

Solo exhibition
"NÄKÖKULMIA NAISEUTEEN"
(Womenly Secret)
in Verkaranta gallery in Tampere (Finland)
from February 24 - March 21, 2011.

Solo exhibition
... it's time ...
in Daugavpils Museum of Art and History
from April 16 — May 27, 2010.