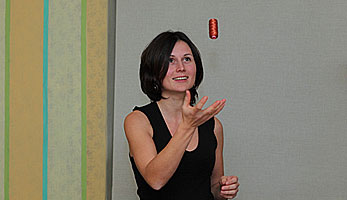 Life beside us is very chenging, unstable, unsafe, at times unbearably heavy and painful - aware of this fact, my story is not about that, but about unchanging values around us, wich are eternal, trustworthy and stable. Family, nature, music, colors..., but the greatest miracle of the Creator God, in my understending, is and remains man.
Ieva Prāne
Education
2010
, M.A. degree in Textile art, Latvian Academy of Arts
2006
, B.A. degree in Textile art, Latvian Academy of Arts
1998
, Graduated at Riga Design and Art College, Department of Fashion design
Additional education:
2014–2015
, Certificate of Mentoring program for businessman, society "The Leader"
Employment
2017
- art teacher of preschool "Knabis"
2012
- runs her own art studio - teaches drawing, painting, composition
1999
– till now, Freelance artist, self-employed
2015-2017
, Teacher of Painting at Ledurga Art School (Latvia)
2013–2014
, Creative director at Asian Design Studio 4Decorasian (Riga, Latvia)
Professional memberships
World Textile Association (WTA, since
2011
)
Artists Union of Latvia (since
2010
)
Latvian Textile Artists Association (since
2006
)
Exhibition activities
1994
– till now, Participated in juried and group exhibitions in Latvia, Finland, France, Belgium, Germany, Russia, Italy, Netherlands, Mexico, United Kingdom.
Personal exhibitions
2016
- Textile works and paintings solo exhibition,
"Textil-gleznas"
(Textile-paintings), Lēdurga's House of Culture, Lēdurga (Latvia).
2016
– Textile solo exhibition, International Culture festival
"Alle 5 della sera"
, Sedico (Italy)
2011
– Textile exhibition
"Näkökulmia Naiseuteen"
(Womanly secret), Verkaranta Gallery, Tampere, Finland
2010
– Textile Exhibition
"...it's time..."
, State Art Museum, Daugavpils (Latvia)
Works in private collections
Latvia, Finland, Switzerland, Netherlands, Mexico, United Kingdom
Selected significant experience
2016
– participation in international project
"Erasmus for Young Entrepreneurs"
, Belluno (Italy).
2013
– leader of a creative workshops at SEB bank planning seminaries.
2012
– till now, works on her own brand of textile fashion clothing
"Legatee"
.
2012
– realisation of Altar Tapestry
"The garden of souls"
in Mary chapel (Riga Cathedral, Latvia)
2007
– till now, organizes different workshops, several of them are documented in Latvian and International medias.
Awards
2007
– awarded with Ansis Cirulis scholarship for the most outstanding Latvian figurative textile work.
Language skills
Latvian
(native),
English
and
Russian
– active,
German
– elementary.